Octelas is business intelligence software that gives you the answers you need, when you need them – effortlessly
All your data in one place
When you partner with Illuminis, we do all the clever stuff for you. Installed by us on your servers or in the cloud, we join up all your data sources so you can get the answers you need. In seconds
With a completely intuitive user interface, Octelas is no more difficult to use than an online shopping trolley. Want a new report? Ask your Illuminis data analyst to set up the report for you as a one click favourite.
From spreadsheets to accounts data to CRM, stock and process management and workflow databases, we will link up all your data sources so you can access all your entire data set, effortlessly.
Octelas comes in-built with a wide range of template reports, ready to be tailored to the exact needs of your business by your Illuminis data analyst. We work hard to make sure that the "look and feel" – even the display colours and the addition of your own logo – of your Octelas installation feels completely comfortable to you and all your team.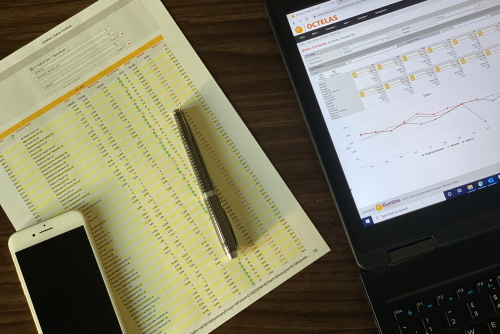 Update automatically
Get the freshest data with a live connection to your data or get automatic updates on a schedule you define. Not sure what works best for you? Your Illuminis data analyst is there to advise you.
Drill down into your data
Look at your data from every angle, filter and drill down into detailed reports, all prepared for you after discussion with your Illuminis data analyst.
Dashboards & Visualisations
If you like dashboards, you can have them as part of your Octelas software installation. We have access to a very large suite of visualisations and your Illuminis data analyst will help you identify which work best for your team.
Octelas business intelligence software incorporates a highly granular security layer. This means that you can determine – down to each piece of data in your combined dataset – exactly who in your team has permission to see each level of data. Simple to use administration screens makes it very easy to onboard new users or alter staff permissions. Prefer to get us to do it for you? Just ask your illuminis data analyst.
Deep knowledge of accounting systems
As a result of our many years experience in helping clients manage their data, we have developed a deep knowledge of the structure of accounting software across many of the well-known ERP platforms (including Sage; Oracle; One Advanced; Microsoft Dynamics; SAP; IBM AS400; Xero and many more).
Typically, Octelas is installed in just a few days. We can do this because we follow a unique process: in a couple of online discussions with you, followed by an investigation of how your data is structured, we establish your most pressing reporting needs. Based on this information, we install Octelas on your servers (which may be in the cloud). In our experience you need to see all your data in Octelas to fully appreciate just how many valuable insights it can give you. Your illuminis data analyst is on hand at all times to add in new reports for you – free of charge – as your understanding of your data unfolds.
Octelas gives you the option of including a customer portal module as part of your installation. Set up as a separate "shadow system", the Customer Portal option allows you safely and securely to give your customers remote, self-service access to selected customer account information. Typical uses allow customers to check stock availability; track orders including build and delivery dates; and payment information.
Pivot Reports gather seemingly unrelated packets of data together and then show comparisons – an example is the report you get on Amazon of the "customers who bought this also bought these items", which is drawn from a Pivot Report similar to the one we have embedded in Octelas. Octelas can find all the data you need, instantly and allow you to test all sorts of combinations of pairing goods to customers whilst you find the best solutions to add value for your customers and your business.
Octelas Pivot reports for seasonal solutions
You can use also use Pivot Reports to identify which stock groups sell at what time of year or to which types of customer which is a great asset for companies relying on a seasonal surge in sales at Christmas, Easter or the summer months. Pivot Reports are included as standard in our Octelas software so following installation they are a "ready to go" self-service report. Your illuminis data analyst will set these up for you after discussion of your exact needs. An example would be a business selling plumbing consumables with a large range of products which fall into eight groups. He wants to upsell more product to existing customers. He can pull together on Octelas a report with one click, identifying all customers who bought items in one group but not others, with the volumes/value of sales in the chosen period.